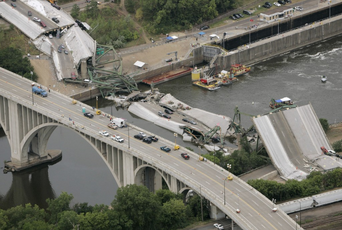 The I-35W Mississippi River bridge, officially known as Bridge 9340,
was an eight-lane, steel truss arch bridge that carried Interstate 35W across the Saint Anthony Falls of the Mississippi River in Minneapolis, Minnesota, United States.
During the evening rush hour on August 1, 2007, it suddenly collapsed, killing 13 people and injuring 145. The bridge was Minnesota's third busiest, carrying 140,000 vehicles daily. The NTSB cited a design flaw as the likely cause of the collapse, noting that a too-thin gusset plate ripped along a line of rivets, and asserted that additional weight on the bridge at the time of the collapse contributed to the catastrophic failure.
The bridge was coincidentally built in 1967 which is the same year of The Silver Bridge Collapse In Point Pleasant West Virginia. This Minnesota bridge is a portion of I-35 and The Silver Bridge that collapsed in 1967 was part of U.S. Highway 35. Not to mention that the death toll is the number 13 which is a reoccurring number in the MothMan legend.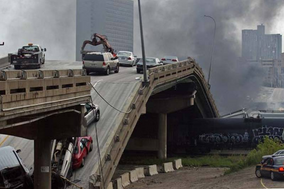 George Noory, during the "Coast to Coast AM" program on August 10, 2007 took various calls from individuals who reported many kinds of strange creature sightings.
Some talk was of the overlap between the Mothman banshee mythos and the 1967 collapse of the Silver Bridge but most of the callers specifically shared their firsthand stories. People telephoned in and told their own eyewitness accounts for hours.
A caller in Illinois claimed to have witnessed the Mothman on Wednesday June 27th 2007, over a month before the August 1st 2007 collapse of the I-35W Bridge, while driving outside of Stewartville, Minnesota. She said the creature had a huge wingspan.
The fact that this is only being reported then, after all the talk of Mothman and the Silver Bridge collapse, must be held as suspect. The question to be asked is: Are there other records of sightings from Minnesota in the months before the bridge collapse, or is myth-making occurring?
References:

https://en.wikipedia.org/wiki/I-35W_Mississippi_River_bridge

http://cryptomundo.com/cryptozoo-news/mn-bridge/

http://www.cryptozoonews.com/mn-bridge/

http://cryptomundo.com/cryptozoo-news/mn-mothman/

Community content is available under
CC-BY-SA
unless otherwise noted.