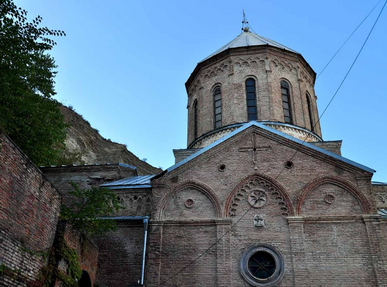 On April 25th 2002, the strongest earthquake in last 40 years hit the city of Tbilisi, which is the largest city in the country of Georgia. The incident killed 6 people. Over 2,000 Apartment buildings mainly in the old part of the city were ruined or heavily damaged.
Overall, there was at least USD 25 million worth of damage due to the earthquake. According to the Georgian Geophysical Institute the earthquake was magnitude of six in intensity.
Alexander Galtsev, the supervisor of a Russian UFO center called "Russian House", revealed that there were reports of Mothman-like sightings from Tbilisi before the earthquake:
"Our colleagues from the ufologist organization in Tbilisi sent us interesting materials at the end of April.  They wrote that some strange man was coming to the church of St. David, saying that there was a risk of very serious danger for the church.  The man says that he got that information from a phantom with wings.  The earthquake took place in Georgia on April 25, damaging 130 objects of architectural value, and St. David's church was among them."
Sources:

http://twocrowsparanormal.blogspot.com/2016/04/mothman-in-russia.html [April 8th 2016]

http://reliefweb.int/report/georgia/georgia-tbilisi-earthquake-kills-six-people

https://en.wikipedia.org/wiki/Tbilisi

https://en.wikipedia.org/wiki/List_of_earthquakes_in_Georgia_(country)

Community content is available under
CC-BY-SA
unless otherwise noted.