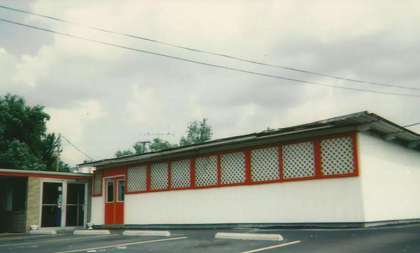 Village Pizza (Formerly Tiny's Diner) is a restaurant in Point Pleasant. Not only do they sell Mothman themed pizza but the place has ties to many Mothman sightings. Its Located on 3004 Jackson Ave in Point Pleasant, WV 25550.
On the night of November 15th 1966, the Scarberry and Mallettes stopped at Tiny's Diner after their famous Mothman sightings as they were trying to figure out what to do next. That's when they decided to contact the police and tell them what they had seen.
Mothman Witness, Connie Carpenter worked at Tiny's Diner. Connie had her sighting on November 27th 1966. She also happened to be the niece of local reporter Mary Hyre.
On Wednesday January 11th 1967, Mrs. Mabel Daniel, Linda Scarberry's mother, had her own Mothman sighting over Route 62, near Tiny's drive-in restaurant, at 5:00 PM. She said "It circled over Tiny's and then flew off."
Community content is available under
CC-BY-SA
unless otherwise noted.