About
The River Museum
is located on Main Street in Point Pleasant. The museum has many displays, models, items, photos, and video demonstrations about commercial enterprise and life on the Ohio and Kanawha Rivers.
The museum highlights topics such as boat construction, the great flood, stern-wheel steamers, river disasters and the local river industry's contribution to World War II. It also offers a boating simulator, aquarium and a research library.
The upstairs includes a miniature recreation of The Silver Bridge along with historical photos of the collapse and a video presentation on the subject.
Mothman:
The River Museum is located on the same street as the Mothman Museum and Mothman Statue. Its also been affected by increased business during the Mothman Festivals. The River Museum's gift shop has sold many Mothman themed items such as shirts, mugs, pins, postcards, books, DVDs and figurines.
One interesting item that found its home at The River Museum is a taxidermy snowy owl that was killed in the area and made local headlines along with Mothman back in 1966. Along with the owl being on display is a photo and detailed description.
History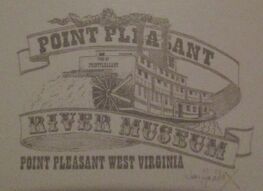 The building which houses the Point Pleasant River Museum has had a connection to the river since at least 1854 when it was established as a mercantile by Robert Mitchell. It has also served as a grocery store to accommodate local residents as well as river traffic via the dock just a few yards away at the end of Main Street.  The last owner who used the location as a mercantile was the H. G. Nease Company. Many residents to this day know the Museum building as "The Old Nease Building."
In the 1940's, a local company bought the property and used the structure as storage space. In 1990, the company Hartley, Hartley & Hartley, Inc., donated the building to the City of Point Pleasant for the purpose of creating a River Museum. After many years of hard work, by numerous volunteers, the Point Pleasant River Museum opened its doors to the public on May 1st 2003.
Sources:

http://pprivermuseum.com/

"Giant Owl Killed On Area Farm" Newspaper, 1966

"Not Mason Mothman, Is It An Owl?" Newspaper, 1966

Community content is available under
CC-BY-SA
unless otherwise noted.