About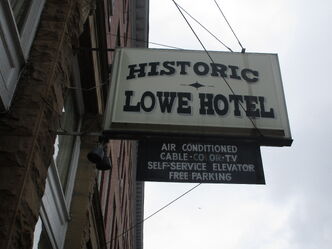 The Lowe Hotel is located in the heart of the Point Pleasant Historic District at the corner of Fourth and Main Streets. Its grand structure was built in 1901 and originally named the Spencer Hotel in honor of J.S. Spencer. Then operated by two brothers, Homer and Griff Smith.
The hotel was purchased by the Lowe family in 1929 after the stock market crash and renamed the Lowe Hotel. The hotel is now owned by Ruth and Rush Finley, who purchased the Lowe in 1990. A visit to the Lowe gives a step back in time with today's conveniences.
Ruth and Rush have been continually upgrading the building and adding their personal touch to the business. The friendly atmosphere and hospitality create a very pleasant and restful experience for the traveler.
The Historic Lowe Hotel features unique rooms, each with their own character and style. It includes single or double-bed rooms, family suites, jacuzzi suites and two-room suites.
The sign on the entrance of the large stone building reads "Historic Lowe Hotel" and then below that "Air Conditioned, Cable Color TV, Self-Service Elevator, Free Parking".
The Lowe gets many visitors in September during the yearly Mothman Festival which began in 2002. John Keel, writer of the Mothman Prophecies, stayed in the Lowe hotel in 2003 when he attended the 2nd Annual Mothman Festival.
Sources:

http://www.thelowehotel.com/

http://web.archive.org/web/20070302170008/http://www.thelowehotel.com:80/rooms/rooms.html

http://web.archive.org/web/20070302232800/http://www.thelowehotel.com:80/facilities/facilities.html

Community content is available under
CC-BY-SA
unless otherwise noted.