About
Raymond Arthur Palmer (August 1st 1910 – August 15th 1977) was an American author and editor, best known as editor of Amazing Stories from 1938 through 1949, when he left publisher Ziff-Davis to publish and edit Fate Magazine, and eventually many other magazines and books through his own publishing houses, including Amherst Press and Palmer Publications.
In addition to magazines such as Mystic, Search, and Flying Saucers, he published or republished numerous spiritualist books, including Oahspe: A New Bible, as well as several books related to flying saucers, including The Coming of the Saucers, co-written by Palmer with Kenneth Arnold. Palmer was also a prolific author of science fiction and fantasy stories, many of which were published under pseudonyms.
Bio
According to Bruce Lanier Wright, "Palmer was hit by a truck at age seven and suffered a broken back." An unsuccessful operation on Palmer's spine stunted his growth (he stood about four feet tall), and left him with a hunchback.
Palmer found refuge in science fiction, which he read voraciously. He rose through the ranks of science fiction fandom and is credited, along with Walter Dennis, with editing the first fanzine, The Comet, in May 1930.
Throughout the 1930s, Palmer would have many of his stories published in several science fiction magazines of the era. When Ziff-Davis acquired Amazing Stories in 1938, editor T. O'Conor Sloane resigned and production was moved to Chicago. On the recommendation of popular author Ralph Milne Farley, the editorship was offered to Palmer. In 1939, Palmer began a companion magazine to Amazing Stories titled Fantastic Adventures, which lasted until 1953.
When Ziff-Davis moved its magazine production from Chicago to New York City in 1949, Palmer resigned and, with Curtis Fuller, another Ziff-Davis editor who did not want to leave the midwest, founded Clark Publishing Co.
Science fiction magazines
As an editor, Palmer tended to favor adventurous, fast-moving space opera-type stories. His tenure at Amazing Stories was notable for his purchase of Isaac Asimov's first professional story, "Marooned Off Vesta".
Palmer was also known for his support of the long-running and controversial Shaver Mystery stories, a series of stories by Richard Sharpe Shaver. Palmer's support of the truth of Shaver's stories (which maintained that the world is dominated by insane inhabitants of the hollow earth), was controversial in the science fiction community. It is unclear whether Palmer believed the Shaver stories to be true, or if he was just using the stories to sell magazines. Palmer asked other writers to do stories in the Shaver genre, the most notable being Rog Phillips.
Palmer began his own science fiction publishing ventures while working for Ziff-Davis, eventually leaving the company to form his own publishing house, Clark Publishing Company, which was responsible for the titles Imagination and Other Worlds, among others. None of these magazines achieved the success of Amazing Stories during the Palmer years, but Palmer published Space World magazine until his death.
Palmer's first issue of Amazing Stories introduced a redesigned logo and the unlikely claim "Every Story Scientifically Accurate". Palmer's short story "Mr. Yellow Jacket" was cover-featured on Other Worlds in 1951. Palmer's novella "The Metal Emperor", his last story published in an sf magazine, was cover-featured on Imaginative Tales in 1955.
Paranormality magazines
In 1948, Palmer and Curtis Fuller co-founded Fate, which covered divination methods, Fortean events, belief in the survival of personality after death, predictive dreams, accounts of ghosts, mental telepathy, archaeology, flying saucer sightings, cryptozoology, alternative medicine, warnings of death, and other paranormal topics, many contributed by readers.
Curtis Fuller and his wife Mary took full control of Fate in 1955, when Palmer sold his interest in the venture. The magazine has continued in publication under a series of editors and publishers to the present day.
Another paranormal magazine Palmer created along the line of Fate was Mystic magazine, which after about two years of publication became Search magazine.
In the 1970s, Palmer also published Ray Palmer's News Letter which was combined into another of his publications called Forum in March 1975.
Flying Saucers magazine
In the first issue of Fate, Palmer published Kenneth Arnold's report of "flying discs." Arnold's sighting marked the beginning of the modern UFO era, and his story propelled the fledgling Fate to national recognition. Through Fate, Palmer was instrumental in popularizing belief in flying saucers. This interest led him to establish the magazine Flying Saucers.
Spiritual publications
Palmer's avid interest in spirituality and alternative explanations of reality was reflected in his choice of publications. His interest in the Oahspe Bible, led him on a 15-year search for a copy of the original 1882 edition published by Oahspe Publishing Assoc., New York and London. Although a later edited and revised edition was published in 1891 and reprinted over the years, the original 1882 Oahspe Bible was not available until Palmer republished a facsimile of it in 1960. It is often referred to as "The Palmer Edition" or "The Green Oahspe" among Oahspe readers. He continued to publish and reprint later editions to which he added an index and editor's notes. Oahspe was reported by the spiritualist medium John B. Newbrough to have come as automatic writing through his hands on the newly invented typewriter.
Tributes
The secret identity of DC Comics superhero the Atom – introduced by science fiction writer Gardner Fox in 1961 – is named after Palmer. A newer edition of Oahspe as a tribute edition to Ray Palmer was published in 2009 titled Oahspe - Raymond A. Palmer Tribute Edition. In September 2013, Palmer was posthumously named to the First Fandom Hall of Fame in a ceremony at the 71st World Science Fiction Convention. In 2013, Tarcher/Penguin published a biography of Palmer called The Man From Mars and written by Fred Nadis.
Palmer is also the subject of Richard Toronto's 2013 book, War over Lemuria: Richard Shaver, Ray Palmer and the Strangest Chapter of 1940s Science Fiction, which attempts to give a detailed history of the Shaver Mystery and its two main proponents.
Bibliography:
Short stories
The Time Ray of Jandra, Wonder Stories (June 1930)
The Man Who Invaded Time, Science Fiction Digest (October 1932)
Escape from Antarctica, Science Fiction Digest (Juneau 1933)
The Girl from Venus, Science Fiction Digest (September 1933)
The Return to Venus, Fantasy Magazine (May 1934)
The Vortex World, Fantasy Magazine (1934)
The Time Tragedy, Wonder Stories (December 1934)
Three from the Test-Tube, Wonder Stories (1935)
The Symphony of Death, Amazing Stories (December 1935)
Matter Is Conserved, Astounding Science-Fiction (April 1938)
Catalyst Planet, Thrilling Wonder Stories (August 1938)
The Blinding Ray, Amazing Stories (August 1938)
Outlaw of Space, Amazing Stories (August 1938)
Black World (Part 1 of 2), Amazing Stories (March 1940)
Black World (Part 2 of 2), Amazing Stories (April 1940)
The Vengeance of Martin Brand (Part 1 of 2), Amazing Stories (August 1942)
The Vengeance of Martin Brand (Part 2 of 2), Amazing Stories (September 1942)
King of the Dinosaurs, Fantastic Adventures (October 1945)
Toka and the Man Bats, Fantastic Adventures (February 1946)
Toka Fights the Big Cats, Fantastic Adventures (December 1947)
In the Sphere of Time, Planet Stories (Summer 1948)
The Justice of Martin Brand, Other Worlds Science Stories (July 1950)
The Hell Ship, Worlds of If (March 1952)
Mr. Yellow Jacket, Other Worlds (June 1951)
I Flew in a Flying Saucer (Part 1 of 2), Other Worlds Science Stories (October 1951)
I Flew in a Flying Saucer (Part 2 of 2), Other Worlds Science Stories (December 1951)
The Metal Emperor, Imaginative Tales (November 1955)
Nonfiction
The Coming of the Saucers (with Kenneth Arnold) (1952)
The Secret World (with Richard Shaver) (1975)
FATE Magazine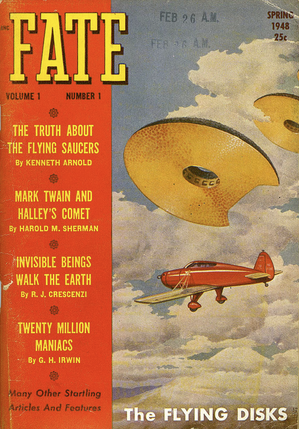 FATE is a U.S. magazine about paranormal phenomena. FATE was co-founded in 1948 by Raymond A. Palmer (editor of Amazing Stories) and Curtis Fuller. FATE magazine is the longest-running magazine devoted to the paranormal. Promoted as "the world's leading magazine of the paranormal", it has published expert opinions and personal experiences relating to UFOs, psychic abilities, ghosts and hauntings, cryptozoology, alternative medicine, divination methods, belief in the survival of personality after death, Fortean phenomena, predictive dreams, mental telepathy, archaeology, warnings of death, and other paranormal topics.
FATE magazine was a first-of-its-kind publication dedicated to in-depth coverage of mysterious and unexplained phenomena. FATE was a true journalistic pioneer, covering issues like electronic voice phenomena, cattle mutilations, life on Mars, telepathic communication with animals, and UFOs at a time when discussing such things was neither hip nor trendy like it is today. Recently, FATE celebrated the 65th anniversary of its founding and the publication of its 722nd issue, a rare feat of longevity achieved by only a select few U.S. periodicals.
Though Fate is aimed at a popular audience and tends to emphasize personal anecdotes about the paranormal, American writer and frequent FATE contributor Jerome Clark says the magazine features a substantial amount of serious research and investigation, and occasional debunking of dubious claims. Subjects of such debunking articles have included Atlantis, the Bermuda Triangle, and the Amityville Horror.
History
Where it all began: The birth of the modern UFO era
Established in 1948 by Clark Publishing Company, the first edition of FATE hit world newsstands in the spring. Co-founded by Ray Palmer, editor of the 
Amazing Stories
magazine, and Curtis Fuller, an accomplished editor in his own right, the magazine's inaugural edition featured an article by Kenneth Arnold who recounted in it his UFO encounter in 1947. Arnold's sighting marked the beginning of the modern UFO era, and his story propelled the magazine to national recognition.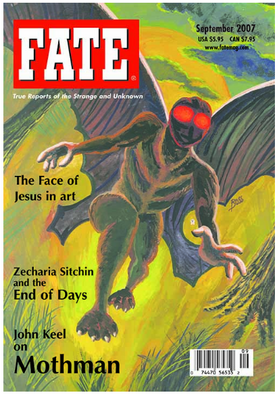 The Cold War was in its infancy, and the Space Age was still a dream but across the nation and around the world, people observed strange objects flying through the skies.
Two Chicago-based magazine editors, Raymond A. Palmer and Curtis B. Fuller, took a close look at the public's fascination with flying saucers and saw the opportunity of a lifetime. With help from connections in the worlds of science fiction and alternative spirituality, they launched a new magazine dedicated to the objective exploration of the world's mysteries. They gave their "cosmic reporter" the name FATE.
FATE's first issue, published in Spring 1948, featured as its cover story the first-hand report of pilot Kenneth Arnold on his UFO sighting of the previous year, an event widely recognized by UFO historians as the birth of the modern UFO era.
In 1955, Curtis Fuller and his wife Mary took full control of Fate when Palmer sold his interest in the venture. The Fullers expanded the magazine's focus, and increased readership to well over 100,000 subscribers.
FATE's role in creating a new genre: The paranormal
Other topics covered in this and subsequent issues included vanished civilizations, communication with spirits, synchronicity, exotic religions, monsters and giants, out-of-place artifacts, and phenomena too bizarre for categorization. This mix of subjects set a template that the magazine would follow for six decades and counting. In many ways, FATE magazine created the genre that is now known as "the paranormal."
Palmer and Fuller's judgment of FATE's potential proved correct, and as demand for the magazine grew its publication frequency increased quickly from quarterly to bimonthly to monthly. Palmer sold his share of the magazine in the late 1950s, and Fuller brought his wife Mary aboard to help run the growing business.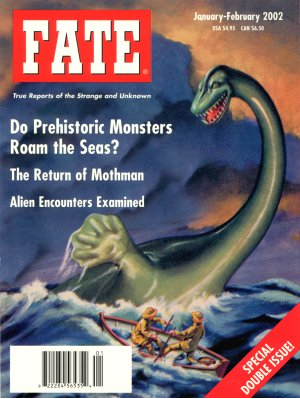 FATE's success spawned scores of imitators over the years, but none lasted very long. Through the decades FATE kept going, doggedly promoting the validity of paranormal studies but unafraid to reveal major events as hoaxes or frauds when it was warranted. Among the famous cases debunked by FATE were the Philadelphia Experiment, and the book and movie versions of the Amityville Horror.
In 1988, Fate was sold to Llewellyn Publications (now Llewellyn Worldwide). In his farewell column, Curtis Fuller wrote, "Our purpose throughout this long time has been to explore and to report honestly the strangest facts of this strange world and the ones that don't fit into the general beliefs of the way things are."
Fate underwent a facelift in 1994, when Llewellyn decided to change it from digest size to a full-size, full-color magazine.
In 1998, the magazine celebrated its 50th year of publication. When asked to comment on how a magazine like Fate survived through five decades, Carl Llewellyn Weschcke said, "No product, especially a magazine, can stay around for fifty years unless it meets a need. Fate recognizes that the impossible can be possible; we explore the unknown so that it can be known."
In September 2001, Galde Press, Inc., owned by editor-in-chief Phyllis Galde, purchased Fate. Galde has continued Fate's reporting of unusual events and active reader involvement in shaping the content of the magazine.
In May 2003, Fate returned to its pre-1994 digest size. In 2008, it moved to a bi-monthly format with its July/August issue. True to its origins, in many issues Fate magazine continues the tradition of having retro looking art appear on the cover.
Relevancy today
So how does FATE still stay relevant after all this time? Especially in a fast-paced, high-tech world that is often short on attention span and long on cynicism, how does a magazine like FATE continue to thrive? Editor-in-Chief Phyllis Galde says, "FATE allows readers to think for themselves by providing them with stories that mainstream publications don't dare touch. The truth is, reality does not conform to the neat and tidy box that many people would like to wedge it into. Our world is a bizarre and wondrous place and our universe is filled with mystery — it is teeming with the unknown. People are longing for something more than the mundane transactions of everyday existence. FATE feeds the soul's appetite for the enigmatic, the esoteric, and the extraordinary."
 Sources: 
https://en.wikipedia.org/wiki/Raymond_A._Palmer
https://en.wikipedia.org/wiki/Fate_(magazine)
https://www.fatemag.com/about

Community content is available under
CC-BY-SA
unless otherwise noted.