The following is a 2001 text-based interview with actor Will Patton. He was in Point Pleasant, West Virginia to prepare for his role in the Mothman Prophecies movie. The interview was conducted by Donnie Sergent Jr, Co-author of Mothman: Facts Behind the Legend. It was originally hosted as an exclusive on the "Mothman lives" website from 2001-2007. Then it was moved to the Mothman Museum website from 2007-2012. It has since been retrieved from archives:
"Exclusive 2001 interview with actor Will Patton"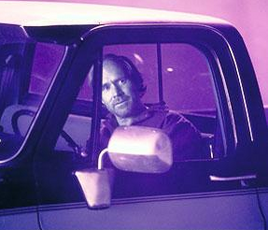 By Donnie Sergent, Jr.
Co-author, Mothman: Facts Behind the Legend
"I had the pleasure of spending time with an actor who will be in the upcoming movie, The Mothman Prophecies. Will Patton (Armageddon, Gone in 60 Seconds, Remember the Titans, Copycat, Entrapment, and over 30 more) was in Point Pleasant, West Virginia to check out the area for his role in the upcoming movie, and of his own curiosity for our area in general. After trying to explain to him how to make his way to Chief Cornstalk Wildlife Management Area here in Mason Country (a nearly impossible feat for anyone not familiar with this area) I offered to drive him there myself. He was delighted and accepted the offer.
Just for the record, Will is a genuine human being. Very down to earth and polite. That said, here we go... We drove through Point Pleasant, taking in some scenery and local businesses along the way. After we stopped at Speedway, filling the car up with gas, and grabbing a coffee for the ride, we headed for Krodel Park, and then Cornstalk. Will had only two days to take in as much as he could before heading to his next destination. He had already visited the Battle Monument State Park in Point Pleasant, WV, and the Silver Bridge Memorial in Gallipolis, OH the day before. He had also stopped the day before to ask me about the TNT area. He visited TNT, as well, later that afternoon. Will had plenty of time to give me his outlook on the areas he had seen, as I drove. So, I asked him if he would mind giving me permission to use his words for you to see, here on the site. He said he would be more than happy to give me an exclusive interview for the site and the viewers. What he gave me to use on the record is seen below. Enjoy...
(The first part of the interview was before Will and I had left for our journey to Chief Cornstalk WMA....)
DS,Jr.: How do you like the city of Point Pleasant, so far?
Will Patton: It's very unique. I'm just sort of feeling it right now. I'm just checking it out. The hotel [Lowe Hotel] is pretty amazing. I've never been in a hotel like that. It was founded in 1901?
DS,Jr.: Yes.
Will: Each room is different. You wouldn't expect to see it, because the town seems empty in a way. There seems to be a lot of stuff going on, but at the same time it seems that nothing is going on. Quiet and empty, yet full. And the hotel is kind of like that too. It feels like a grand hotel, and yet there's a lot of empty rooms. It seems that at one point this was a booming river town. It seems like a really interesting town. It seems to be in a place where there should be a lot more happening. I could see that it could be thriving. I wish I could hang out here for a long time. I've only got twenty-four hours. Yeah, I could walk around here for a long time just checking it out.
DS,Jr.: It's definitely serene.
Will: Yeah, it is. 
DS,Jr.: If you want to go anywhere or do anything, it's close by. At the same time, if you just want to sit down and relax quietly, you can.
Will: Yeah. I'm really curious about the whole Chief Cornstalk thing. I think people should talk about that more. Maybe the curse is over. If it was the curse that caused a lot of this stuff, you people have sure paid enough, with the bridge [falling of the Silver Bridge] and everything. Maybe the town should offer him a peace offering of some sort.
(This is where I explained to Will that Chief Cornstalk was also an actual area, a Wildlife Management Area in Mason County, WV. So, we took off for a ride. After we finished our excursion, I took him to the Mason County Library. He wanted to do some more research about the area and the legends. This is where he gave me the last part of the interview.)
DS,Jr.: What did you think about the TNT area?
Will: I went out to the TNT area last night. It was right before the sun was going down. I drove around out there a little bit. There was a park ranger out there that I talked to. He told me that he'd been out there for thirteen years and he'd never seen anything. He pointed out the igloos. I drove around up in there and drove down one of those side roads where the igloos were, just as the sun was going down. I can see how a person could begin to either imagine, or actually encounter, something out in those parts. Whether it's whatever they were making out there during the war created an atmosphere, or those igloos or something in the ground from way back, something we don't even know about... I'd be really curious to be out there in the middle of the night. I'm gonna have to work myself up to that. Those igloos were very, very spooky, also. Because it kind of implies something hidden. You know what I mean? Just something hidden...something mysterious. Something also unexplainable. With the combination of all those things together you've got a kind of feeling. It's a very mysterious area. It feels somehow seductive, yet somehow scary. Something that makes you want to keep exploring, but something that makes you want to get away at the same time. That's my experience with TNT so far, that I can articulate.
DS,Jr.: What do think about the Chief Cornstalk WMA?
Will: Basically, that's just a beautiful place. I hope everybody takes care of that.
(During our discussions about this area, Will told me about something that he experienced during his visit that he did NOT want me to put in this interview. He told me that I COULD add this little note to the end of the interview to let people know that there are definitely unexplainable things happening here. Also, Will said that he enjoyed the area and commented about the natural beauty of the forests and landscape. Will, after you read this, know that you are more than welcome in our town, anytime. I hope I've done you justice with this interview.)"
- Donnie Sergent, Jr.
Source(s):

http://web.archive.org/web/20010215214642/http://www.mothmanlives.com:80/willpatton.html

http://web.archive.org/web/20110825083638/http://www.mothmanmuseum.com:80/MothmanLives/
mothmanmovie/will/willpatton.html