About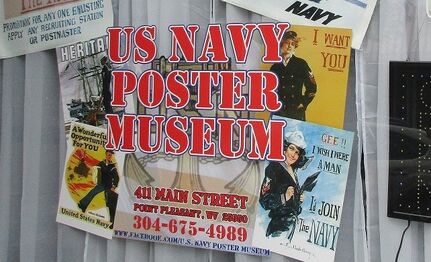 The world's only U.S. Navy Poster Museum is located on Main Street in Point Pleasant, WV. It opened in September 2014 as a part of the historic Lowe Hotel.
The museum has an extensive collection of Navy Recruiting Posters spanning the last 100 years, featuring the artists JW Burbank, Matt Murphey, McClelland Barclay and many more, as well as a collection of Patriotic Pinups, and a Ship's Store with all kinds of Navy souvenirs including, t-shirts, posters, postcards, pins, patches, hats, key-chains, etc.
Mothman - The Stowaway:
Before the building became the Navy Poster Museum it was used as the first location of The Mothman Museum which was later moved across the street to a place closer to The Mothman statue.
In the move however, the Mothman museum left behind an interesting artifact, a board of information on the local legend and a Mothman mannequin. The Navy Poster Museum owners made use of this leftover Mothman piece by dressing him in a Navy uniform and labeling him in ship terms as a "Stowaway".
Sources:

https://gotowv.com/company/us-navy-poster-museum/

http://www.roadsideamerica.com/tip/45234

Community content is available under
CC-BY-SA
unless otherwise noted.