15. Mothman Festival 2016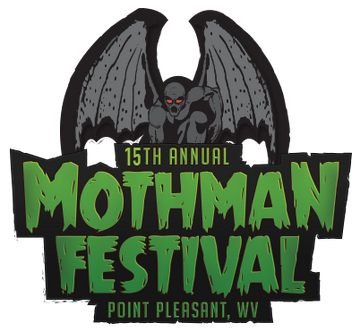 On Saturday September 17th and Sunday September 18th 2016, they celebrated 50 years of The Mothman and the festival's 15th anniversary. Visitors revisited the paranormal phenomenon that hit the town of Point Pleasant 50 years ago.
Every year on the third weekend in September, the streets of Point Pleasant are taken over with Mothman fans from all over the world who celebrate this annual gathering of all things Mothman.
There is only one event like it in the world that celebrates the legend of the Mothman, and it's located in the heart of Point Pleasant West Virginia, where the infamous creature is said to have once lurked. The Mothman Festival is composed of people who visit from all over the world in a town where history meets mystery.
Events:
The festival admission was free and they had so much to see and experience. There was Festival Food, Merchandise Vendors, Mothman and Men In Black Cosplay, The World's Only Mothman Museum, The World Famous Mothman Statue, Downtown Tram Tours, a Zip Line, Face painting and Kids Activities.
Mothman Pagent:
The 9th Annual Mothman Festival Pageants took place on Saturday, Aug. 27.  The Jr. Royalty pageant is at 1 p.m. (Tiny Miss, Little Miss, Little Mister, Young Miss, and Junior Miss), and the Queen's Pageant took place at 7 p.m. (Teen, Miss, Ms. & Mrs.). Admission was $5. Those interested in competing pre-registered. Entry fee was $40 for children and $60 for Teens and up. 
Mothman 5K Run and walk:
There was a Mothman 5k. People who participated checked in at Mothman Museum at 400 Main Street. They walked a few blocks north to 8th Street, where the starting line was. From the start line, they ran south on Main Street, went right into Tue-Endie-Wei State Park and ran the perimeter. Then they entered through the flood wall and ran about 1 mile between the flood wall and the Ohio River. Turn around was at the end of the flood wall. They returned the way they came and finished back on Main Street, at the museum. 
Mothman Hayride:
The popular Mothman Hayrides allowed visitors to get up close and personal in the TNT Area. Tickets went on sale the morning of the festival at the Info tent.  There were no pre-sale tickets sold.  Hayrides took place just up the road about 7 miles at the Mason County Farm Museum starting around 7 pm and usually ending around 11.
Mothman TNT Guided Shuttle Tours:
A private group tour led visitors into the heart of the infamous TNT Area where the sightings of Mothman are said to have once taken place. They visited the elusive ammunition bunkers or "igloos" as the locals call them.  These tours were only available during the festival.
They embraced the history and mystery that surrounds the elusive and once top secret TNT Area on the fully narrated and guided venture. They re-traced the footsteps of the original Mothman eyewitnesses through the detailed stories that the group tour guide shared during the 60 to 75 minute bus tour. They departed from the festival and travel through Point Pleasant and onward into the TNT Area and even made a stop at the WWII ammunition bunkers to investigate and take pictures. There were plenty of sites to see as they traveled there and back to the starting point. There was plenty of interesting stories, creepy facts, and even some personal experiences to discuss throughout the journey.
Vistors:
"Mountain Monsters" Fan Meet and Greet
Trapper John and the AIMS Team were at the 2016 Mothman Festival to meet with their fans. Fans stopped by to say hello and snag pictures with the AIMS team.
Visit from the Ghost Busters
The Mothman festival included cosplayers dressed as ghostbusters complete with cars and the giant marshmallow man. The event has been described as a festival and street fair, with a little Comic Con mixed in. So, who better to join in on the action than the Ghost Busters?! These cos-players do this in their spare time and their profits go to local children's charities. Many festival goers payed them a visit and showed them their support.
"Supernatural" Cosplay Presented by "Last Action Josh" and "Bam Pow"
It was planned for there to be cosplayers of Dean, Sam, Abaddon and Castiel for fans of the hit TV show "Supernatural". It was even supposed to include Dean's 1967 Chevy Impala that looks just like the car from the show but unfortunately this didn't happen.
The festival also planned to have "The MIB Car" which was a black Cadillac based on the sightings of The Men In Black but the car was unfortunately not at the festival.
Speakers:
Every year, The Mothman Festival hosts a panel of both well known and up and coming paranormal professionals, artists, and authors. The guest speakers presented an array of topics and discussions:
Saturday, September 17th
10:00 AM - ROBERT ROBINSON (Investigator and author of "Legend Tripping") SPEAKING TOPIC: Unknown
11:00 AM - CHAD LAMBERT (Two time Harvey Award nominated comic writer and editor of "Return to Point Pleasant") SPEAKING TOPIC: "The Art of Comic Book Writing" Chad talks all things Mothman and why it became the subject of his early comic book work.
Noon - SUSAN SHEPPARD (Creator of "Haunted Parkersburg Ghost Tours", executive producer, and author) SPEAKING TOPIC: "The Partridge/Derenberger Connection" The MIB and Mothman encounters that these key witnesses experienced after their first initial famous reports/sightings.
1:00 PM - ROSEMARY ELLEN GUILEY (Author & leading expert in paranormal investigations) SPEAKING TOPIC: "WHO IS MOTHMAN?". What are the explanations on the nature of the entity, where it came from, and why it roamed the Ohio River Valley.
2:00 PM - JOEDY COOK (Bigfoot researcher, author, and founder of "Cryptid Seekers" and "Dogman Phenomenon") SPEAKING TOPIC: "Dogman Phenomenon" First-person accounts and newspaper articles on strange beings. Including:  The Beast of land between the lakes, Beast of Bray rd, Michigan Dogman, Shenango Valley Werewolf.
3:00 PM - STAN GORDON (UFO researcher & author of award winning "Kecksburg The Untold Story") SPEAKING TOPIC: "Astonishing Pennsylvania Encounters: Past and Present" This lead UFO investigator of the 1965 Kecksburg crash site will delve into the strange occurrences (Both past and present) within his home state of Pennsylvania.
4:00 PM - FRED SALUGA (Investigator & Director of WV & Penn. Mutual UFO Network) SPEAKING TOPIC: "West Virginia - Wild, Wonderful and Mysterious"
5:00 PM - BILL BROCK (Cryptozoologist, author, and host of TV show "Monsters Underground") SPEAKING TOPIC:  "Ancients, Aliens and Mothman...Is Mothman Alien?"
6:00 PM - KEN GERHARD (Author & Co-Star of History Channel's "Missing in Alaska") SPEAKING TOPIC: "Flying Cryptids". Reports of Thunderbirds, living pterodactyls, giant bats, some recent reports and how these might tie to the Mothman phenomenon.
7:00 PM - NICK REDFERN (Well known author, lecturer, journalist & paranormal researcher) SPEAKING TOPIC:  "The Mystery of the Women in Black". Much has been written on the sinister MIB, but little has been penned on the bone-chilling "WIB". Nick Redfern will be revealing the strange story of the Women in Black, including encounters in Point Pleasant.
8:00 PM - LOREN COLEMAN (World renown cryptozoologist, author, and researcher) SPEAKING TOPIC:  "The Winged Weirdies" Dover Demon, Phantom Panthers, Big Foot and other oddities of the International Cryptozoology Museum.
Sunday, September 18th
Noon - JOHN AND TIM FRICK (Brothers, avid paranormal investigators, and UFO eyewitnesses) SPEAKING TOPIC: "TNT Time Slip" The TNT Area explorations of the Frick Brothers and their strange experience with what might be a TNT time slip.
1:00 PM - SHERRI BRAKE ("Haunted Heartland Tour" owner, author/columnist, and researcher) SPEAKING TOPIC:  "Haunted Heartland" Dicussion and photos of haunted, and mysterious locations including reformatories, haunted prisons and lunatic aslums within Ohio and WV.
2:00 PM - CAMERON JONES (Paranormal researcher & investigator) SPEAKING TOPIC: "Point Pleasant: A Supernatural History. UFOs, Ghosts, and Mothman".
3:00 PM - ROUND TABLE DISCUSSION. Variable hot topics in paranormal research & news will be discussed and a Q&A session will take place between our guest speakers with festival audience members.
4:00 PM - GEORGE DUDDING (Point Pleasant native, physics teacher and author of "The Silver Bridge Tragedy") SPEAKING TOPIC:  TBA
Bands:
Bands of Saturday:
11am - "Creek Don't Rise"
1pm - "5:42"
3pm - "Pop Friction"
5pm - "Sodbusters"
7pm - "StillWater"
8pm - "Mothman Band"
Bands on Sunday:
11am - "Duane Albert and The Area 51 Band
1pm - "Ultrasound"
3pm - "Warcreek Mafia"
16. Mothman Festival 2017
On Saturday September 16th and Sunday September 17th 2017, The 16th Annual Mothman Festival was held on Main Street in Point Pleasant WV. It was a celebration of the Mothman folklore. The 2017 Mothman Festival was dedicated to the memory of Carolin Harris.
TNT Bus Tours:
"Everyone who comes to our festival pretty much knows the story about the Mothman, but we would almost bet that you haven't heard the rare accounts and stories our tour guides will share with you. Not only will they lead you down the mysterious memory lane of that fateful night of November 15th 1966, but they will share rare and strange encounters passed down to us from the eyewitnesses themselves. Stories that have never been shared before and that you will hear nowhere else."
TNT Hayride:
Get up close and personal in the TNT Area on the popular Mothman Hayride. The Hayrides take place at the Mason County Farm Museum.
Also:
The Mothman 5k Run
Zip-lines
Horse and Wagon Rides
Merchandise Vendors
Food Vendors
The Mountain Monsters Meetup
Local Museums and attractions
Cosplay
Guest Speakers:
Friday, September 15th 2017 [Kickoff Event]
The festival kickoff event was a talk by Seth Breedlove followed by a free screening of the Mothman of Point Pleasant Documentary and a Q&A segment with the Small Town Monsters crew. It was held at the State Theater.
7pm Seth Breedlove, Director/Producer of the "Mothman of Point Pleasant" documentary. Topic of Discussion: "Small Town Monsters: Turning Legends into Time Capsules"
Saturday, September 16th 2017
There were nine guest speaking events held at the State Theater on Saturday.
11am Tad Greathouse, Point Pleasant resident and local historian. Topic of Discussion: "TNT area-overview and history"
12am George Dudding, Writer & Researcher, Point Pleasant Native and teacher. Topic of Discussion: "The Silver Bridge History & Disaster"
1pm Lynn Fawn Cornwell-Robinson, descendant of Shawnee Chief Cornstalk. Topic of Discussion: "Chief Cornstalk Legacy & History"
2pm Rosemary Ellen Guiley, Author & Leading Paranormal Expert. Topic of Discussion: "The 2017 Chicago Flying Humanoids Wave"  
3pm Jason Hawes-J.V. Johnson, Ghost Hunters TV show-Beyond Reality Radio Hosts. Topic of Discussion: "To Be Announced" [This talk was cancelled and a panel hosted by Rosemary Guiley was held instead]  
4pm Lyle Blackburn, Author-Musician-TV Personality. Topic of Discussion: "In Search of the Southern Sasquatch"  
5pm Cameron Jones UFO Researcher and Cryptozoologist. Topic of Discussion: "Strange Tales from Appalachia"  
6pm Ron Murphy, Writer & Paranormal U.K. Radio Show Host. Topic of Discussion: "Winged Entities of the Faerie Realm"  
7pm Robert Robinson, Legend Tripper Author & Researcher. Topic of Discussion: "The Skunk Ape of Florida"  
Sunday, September 17th 2017
There were four guest speaking events held at the State Theater on Sunday.
12pm Steve Ward, UFO and weird phenomenon investigator-TNT hayride tour guide. Topic of Discussion: "High Strangeness"
1pm David Weatherly, Writer-Investigator. Topic of Discussion: "Black Eyed kids-Flying Humanoids-Weirdness of Point Pleasant"
2pm Bill Brock, Cryptozoologist, Paranormal Researcher, TV personality. Topic of Discussion: "Portals-What Are They---Are They Real?"
3pm Ohio Ghost Hunters, Paranormal Investigators. Topic of Discussion: "A Guide to Ghost Hunting & paranormal Investigations"
Bands:
SATURDAY SEPTEMBER 16TH
11AM     RIVERSIDE CLOGGERS-AWARD WINNING CLOGGING GROUP
1PM       TANGLED ROOTS-ELECTRO FUNK W.VA BAND
2PM       ULTRASOUND-HIGH ENERGY ROCK & ROLL
3PM       RIVERSIDE CLOGGERS-AWARD WINNING CLOGGING GROUP
5PM       SNUGGLEFISH-HOMEGROWN BLUES & ROCK BAND
7PM       DUANE ALBERT & THE AREA 51 BAND-HIGH ENERGY ROCK & BLUES
SUNDAY SEPTEMBER 17TH
11AM     MOONSHINE CROSSING BAND-HOMEGROWN BLUEGRASS
1PM       DEEP CREATURES-LOCAL CLASSIC ROCK BAND
3PM       BLUE MOVES-POP AND ELTON JOHN CLASSIC TUNES
17. Mothman Festival 2018
On Saturday September 15th and Sunday September 16th 2018, The 17th Annual Mothman Festival was held on Main Street in Point Pleasant WV to celebrate of the Mothman legend.
The festival occurred around the time that Hurricane Florence hit the east coast in South Carolina but the event wasn't effected by rainfall or weather.
The video game company Bethesda had merchandise at the festival to promote their upcoming game Fallout 76 which is set in West Virginia and features folklore creatures such as Mothman. A "Vault boy" mascot walked around the festival and many attendance were in Fallout cosplay.
Kick-off Event:
On September 14th 2018, Small Town Monsters held an Appalachian Monsters Night at the State Theater. They played three of their documentary films, specifically the ones taking place in Appalachia. This includes The Mothman of Point Pleasant, Invasion on Chestnut Ridge and The Flatwoods Monster: A Legacy of Fear.
At the kick-off, Small Town Monsters announced new films planned for the future such as Terror In The Skies, MOMO: The Missouri Monster and The Mothman Legacy!
Guest Speakers:
Saturday, September 15th 2018
11AM      Joey & Tonya Madia             "Ghostesses, Portals, and MIBs: Our Haunted Life So Far"
12PM      Robert Robinson                  "The Florida Skunk Ape"
1PM        Steve Ward                          "John Keel: Ultraterrestrails and the Mothman"
2PM        Nick Redfern                    "Men in Black: New Revelations"
[ Cancelled ]: 3PM        Loren Coleman    "Is Mothman Bad Luck?"
3PM Chad Lewis and Kevin Lee Nelson "The Van Meter Visitor"
4PM        Lyle Blackburn & Ken Gerhard  "Investigating Cryptid Reports"
5PM        Colin Schneider             "The Paranormal and Roads"
6PM        Fred Saluga                      "North America 1966-67: UFOS, Mothman and Other High Strangeness"
7PM        American Monster Tour "Oklahoma Demon Flyer" Screening. A sneak peek at the first installment of American Monster Tour, an independent documentary series which features investigators Lyle Blackburn and Ken Gerhard as they explore amazing legends and startling encounters with mysterious creatures across the American landscape. 45 minutes followed by a Q&A.
Sunday, September 16th 2018
12PM      Doug Waller & Southeastern Society For Bigfoot   "Sightings, Research & News"
1PM        Craig Hesson (Local Historian)    "The Battle of Point Pleasant"
2PM        Kim Poeppey                     "Dogman, Bigfoot and Photographic Evidence of Portals"
3PM        Allison Jornlin              "Chicago Mothman: Separating Fact from Fiction"             
Bands:
LIVE and local entertainment!
SATURDAY, SEPTEMBER 15TH
11:00       DANGEROUS COOKIES
12:30       STEPHANIE & MARK IV
2:00         RIVERSIDE CLOGGERS (DANCE GROUP)
3:30         FLATROCK REVIVAL
5:00        TWO RIVER JUNCTION
6:30        5:42
8:00        MAGGIE
SUNDAY, SEPTEMBER 16TH
12:00     BAND OF BROTHERS
1:30       DRAGON'S EYE
3:00       CREEK DON'T RISE
18. Mothman Festival 2019
On Saturday September 21st and Sunday September 22nd 2019, The 18th Annual Mothman Festival was held in Point Pleasant, West Virginia.
Kick-off Event:
On September 20th 2019, a movie screening event was held by Small Town Monsters to officially begin the festival.
Guest Speakers:
Saturday, September 21st
11am           Brent Raynes (Researcher & Author of John Keel Biography)
12pm           Dave Spinks (Investigator & Author of "WV Bigfoot" and "Real WV Hauntings")
1pm             Brian Seech (Author & Researcher, founder of CUE & CCS)
2pm             Tribute to Rosemary Guiley (Various speakers)
3pm             David Bakara (Expedition Bigfoot founder)
4pm             Andrew Smith (Flatwoods Monster Museum curator)
5pm             Jeff Thomas (Georgia Bigfoot Investigator)
6pm             Greg & Dana Newkirk (Traveling Museum of the Paranormal)
7pm             Dan Bell (Free screening of Creeps & Monsters-The Fouke Monster)
Sunday, September 22nd
12pm          Eleanor Haskin (Folklorist-PHD Indiana University)
1pm            Steve Ward & Joey Madia (Authors & Paranormal Investigators)
2pm            Zach Bales (Area 51 Investigator)
Bands:
LIVE bands and entertainment on the riverfront main stage!
Saturday, September 21st
12pm             Mothman Festival Costume Contest
2pm               Riverside Cloggers
3pm               Peddlers Glory
5pm               Jesse Crawford Band
7pm               TBA
Sunday, September 22nd
12pm             Society's Ugly Son (Fish Fisher)
2pm               Ultrasound   
19. Mothman Festival 2020 Cancelled
An announcement made by The Mothman Festival Facebook page and official website:
"Due to many unknown factors and the guidelines for fairs and festivals now set forth by the state of West Virginia because of COVID 19, we are postponing Mothman Festival 2020.
We want to give you the chance to change your plans and be able to do something else with your money and time. Point Pleasant WV still welcomes you at anytime.
This is the last thing we wanted to do. The restrictions would affect the guest speakers, bus tours, hayride, vendor space, and traffic/pedestrian flow etc in a negative way. The state guidelines would be tough for the crowds of our size. Instead of the Mothman festival being what it is and what we love, we feel the event would be subpar and lackluster to what has been built over the last 18 years.
That being said, we have started to plan for Mothman Festival 2021 on Sept 18th and 19th, 2021. We will celebrate the 20TH YEAR in 2021 and it will be a big one. Hope to see you there!"
20. Mothman Festival 2021 Cancelled (Set To Return in 2021):