Bob Roach's Mothman Statue
In 2003, The town of Point Pleasant, West Virginia commissioned local artist Bob Roach to create the now famous 12ft tall stainless steel Mothman statue located on Main Street next to The Mothman Museum.
Robert Roach, more commonly known as Bob, is said to have created the iconic design of the statue by using an image of a bodybuilder from a magazine as a reference point.
He interviewed people who claimed to have seen the Mothman and took bits and pieces of their descriptions of the creature; attempting to combine them into a single form.
The statue also appears to be similar to Mothman art by Frank Frazetta as seen on the cover of John Keel's book, The Mothman Prophecies.
There is a plaque on the base of the statue with a short summary of the Scarberry and Mallette Mothman sighting. Author Jeff Wamsley and Charles Humfree were the ones who decided what text should be on the statue. They paraphrased the introduction of Jeff's 2002 book "Mothman: The Facts Behind The Legend" into a short description that sums up the beginnings of the Mothman legacy.
The inscription is titled "Legend of the Mothman". It reads:
"On a chilly, fall night in November 1966, two young couples drove into the TNT area north
of Point Pleasant, West Virginia, when they realized they were not alone.

What they saw that night has evolved into one of the great mysteries of all time; hence the
Mothman Legacy began. It has grown into a phenomenon known all over the world by millions of
curious people asking questions: What really happened? What did these people see? Has it
been seen since? 

It still sparks the world's curiosity - the mystery behind Point Pleasant, West Virginia's
MOTHMAN.

Sculpture by:
Artist and Sculptor
Bob Roach
New Haven, West Virginia"

 The Mothman Statue was unveiled in 2003 at the 2nd annual Mothman Festival. Fans of the creature all journey to the location of the statue to get their souvenir photos taken with it. The statue gets most attention during the yearly Mothman festival . There is even a 24 hour live feed called the "MothCam" which is pointed at the statue at all times.
Bob Roach later passed away at the age of 81 on August 30th 2015. The Mothman statue may be Bob Roach's most famous work but he also created many other steel artworks of historical figures such as the Chief Cornstalk and General Lewis statues which are located around the town of Point Pleasant.
Frank Frazetta's Mothman Painting
Frank Frazetta (born Frank Frazzetta; February 9, 1928 – May 10, 2010) was an American fantasy and science fiction artist, noted for comic books, paperback book covers, paintings, posters, LP record album covers and other media.
Frank Frazetta created a particular piece of art that would be used in a later edition of John Keel 's book, The Mothman Prophecies.
Former New York City literary agent Sandra Martin once told Loren Coleman : "John [Keel] attributed the success of that book to the cover." Frazetta imagined the Mothman much differently than how the creature was originally described, which was as a giant bird man, more avian than moth-like.
He seems to have been overly influenced by the name, which was an Ohio copy editor's invention that had little to do with the actual appearance of the Mothman seen in 1966-1967.
There is no doubt that once drawn, Frazetta's impact was great. His Mothman art is very well-known and his influence can be seen in much Mothman art including The Mothman Statue by Bob Roach. Earlier than the Mothman cover, Frazetta also did the cover for Keel's book Strange Creatures From Time and Space.
Dale Morton's Mothman Costume
In February 2014, Artist, Dale Morton was commissioned by The Mothman Museum to create a full Mothman creature costume for wear and display. He posted images updates to his 'Vermithrax1' Deviantart page as he worked on the outfit. He finished the artwork around May 2014.
The amazingly detailed final product is a grey gargoyle like suit complete with bat wings, sharp teeth, double clawed hands and feet, veins, rib cage and massive red eyes. The costume can be seen being worn in images from The MothMan Festival in 2015. Dale Morton's MothMan Costume now stands as a photo opportunity in The Mothman Museum.
Kelly Bryant's Mothman Painted Pillar
In 2016, Mothman art was painted on a pillar beneath an overpass in Charleston, West Virginia. The artist was Kelly Bryant, a local to the area.
The art featured Mothman in grey and black colors, with circular red eyes, flying in front of the moon above The Silver Bridge and several winter trees. This depiction included long fingered hands held out in front and massive contoured wings.
The sky was painted a light purple with small white stars and the word "Mothman" was in bold red scratchy lettering along the side. The artist signed the bottom of the piece "Kelly Bryant 2016". Other support pillars were also painted with art of different things such as the legend of John Henry which is also considered to be Folklore from West Virginia.
Kelly Bryant of Charleston has worked in several different mediums such as pastels, acrylic and glass. Shes done commissions, sold her art at local shows, been featured in the September 2013 issue of Guitar World magazine and participated in the Charleston Artwalk.
Cosmic Barn Presents: Mothman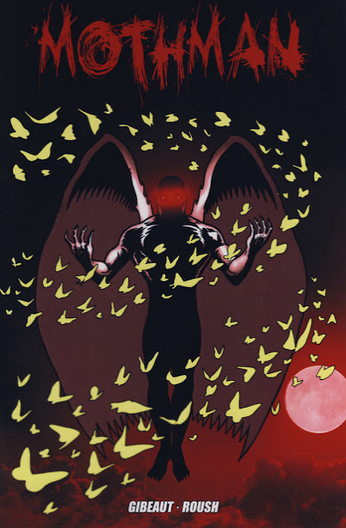 In 2015, Artist Gary Gibeaut released a comic book called simply Mothman which featured two complete illustrated stories about the Mothman of West Virginia folklore. The first story, entitled "Shadow of Death", tells a fictional story about an investigator who is investigating the creature. The second story, entitled "The Abridged Mothman", tells the basic overview of the urban legend. It begins with the Scarberry and Mallette sighting and the aftermath of strange reports throughout '66 and '67. The comic then goes into the fall of the Silver Bridge and the artist's overall response to those events happening in his childhood and his view of them now in adulthood.
"There were those who said it would be some time before things were back to normal in Point Pleasant. But normal was gone." - Gary Gibeat, Mothman comic (2015)
Gary dedicated his comic book Mothman to fellow artist Tim Corrigan, who passed away on August 22th 2015, and to Thomas Allen Cantrell, a cartoonist who perished in the cold waters of the Ohio River on December 15th 1967.
Artist Gary Gibeaut
Gary Gibeaut is a native of Point Pleasant, West Virginia, home of Mothman. He is a comic book artist and creator of a few original series as well as one of the first Mothman coloring books ever published. He has drawn comics since he was a kid. His Mothman stickers, t-shirt designs and posters are very popular and often sold at the Mothman Festival. His art also features heavily in the Mothman Museum as wall decoration and as visual-aid alongside informational museum posters. Some of his art is also usually available in the Mothman Museum gift shop.
Source(s):

http://fivestarcomics.blogspot.com/2015/09/mothman-festival-2015.html

http://fivestarcomics.blogspot.com/p/gary-gibeaut.html

http://fivestarcomics.blogspot.com/2011/07/five-star-creators-gary-gibeaut.html

Mothman Toons
Mothman Toons is a comic book series that consists of a variety of one panel jokes about the legendary Mothman. The comic began in 2013 and has had several more issues since then. It is written by Jason Gibeaut, brother of Gary Gibeaut, and is illustrated by Larry Blake. The book features visual gags with captions in a style somewhat similar to newspaper comics. List of issues:
Mothman Toons #1 (2013)
Mothman Toons #2 "Mothman Strikes"
Mothman Toons #3 "On The Road"
Mothman Toons #4 "The Bride of Mothman" (2017)
Writer Jason Gibeat and Artist Larry Blake
Jason Gibeaut, called Jay by family and friends, is a native of Point Pleasant, West Virginia, home of the Mothman legend. He is a writer and has collaborated with Larry Blake for several volumes of Mothman cartoons called Mothman 'Toons.
Larry Blake has been drawing comics since 1960, and his work has been in print since 1973. Larry has even won a Lifetime Achievement Award at the Small Press and Alternative Comics Expo (S.P.A.C.E.) in Columbus, Ohio. In addition to freelancing for other publishers, Larry writes, draws, and publishes his own comic book titles.
Source(s):

http://fivestarcomics.blogspot.com/p/blog-page_5.html

http://fivestarcomics.blogspot.com/p/larry-blake.html

Return to Point Pleasant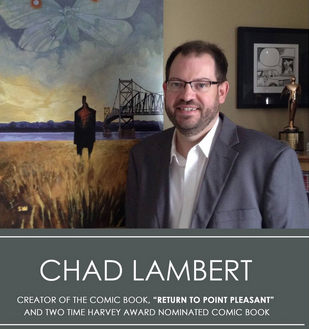 Chad Lambert is a comic book writer and editor. He wrote and edited the Mothman comic "Return to Point Pleasant". He was also in the documentary "Eyes of The Mothman". Chad Lambert often speaks at the Mothman Festival.
Return to Point Pleasant is a 72 page hand-painted comic based on the Mothman of West Virginia folklore. The comic was released on September 1st 2008.
The story consists of time traveling scientists journeying to Point Pleasant, West Virginia in search of the Mothman. It also covers events such as Revolutionary War and the 1967 Silver Bridge disaster.
Lost Grooves
Lost Grooves is an anthology of short stories by Chad Lambert which includes Mothman content left over from the Return to Point Pleasant book. Lost Grooves was released in 2012. It also had a variant cover created just for the Mothman Festival. The cover featured imagery of the Men In Black and the Mothman.
The Art of Point Pleasant
In 2015, The Art of Point Pleasant was released because of the demand for more content. It is a collection of covers, sketches and left over art from the Return to Point Pleasant book.
Aircel Comics Presents: The Men in Black
The Men in Black is a comic book created and written by Lowell Cunningham, illustrated by Sandy Carruthers, originally published by Aircel Comics. Aircel would later be bought out by Malibu Comics, which itself was bought out by Marvel Comics. Three issues were published in 1990, with another three the following year. It was adapted into the film is a comic book created and written by Lowell Cunningham, illustrated by Sandy Carruthers, originally published by Aircel Comics.
Aircel would later be bought out by Malibu Comics, which itself was bought out by Marvel Comics. Three issues were published in 1990, with another three the following year. It was adapted into the film Men in Black, which was a critical and commercial success, leading to two sequels and various spin-offs, as well as a number of tie-in one-shot comics from Marvel. Cunningham had the idea for the comic once a friend of his introduced him to the concept of government "Men in Black" upon seeing a black van driving through the streets.
Publication history
The first series consisted of three issues and was published in 1990 by Aircel Comics, cover-dated January to March 1990. After Aircel was acquired by Malibu Comics, a second series appeared, The Men in Black Book II #1-3 (May–July 1991)
Malibu was purchased by Marvel Comics in 1994, and when the feature film Men in Black was released, Marvel published a number of one-shots in 1997, including a prequel, a sequel, a movie adaptation, and a reprint of the first issue of the original Aircel miniseries. The first series was collected into a trade paperback (June 1990)
Plot:
The Men in Black is an international espionage organization which monitors and investigates both good and evil paranormal activity on Earth. Their remit includes alien life, demons, mutants, zombies, werewolves, legendary creatures and other paranormal beings. In order to keep their investigations secret, much of the global population are unaware of their activities, and are liable to be neutralized to blank their memory of any interaction with the agents.
Notable members include Zed, Jay, Kay and Ecks. Ecks later became a rogue agent after learning the truth behind the MiB: That they seek to manipulate and reshape the world in their own image by keeping the supernatural hidden.
An agent may use any means necessary, including death and destruction, to accomplish a mission. Agents sever all ties with their former lives, and (thanks to the neuralyzer) as far as the world is concerned, they do not exist.
Adaptations
Beginning with the release of the 1997 film Men in Black, the series has been adapted across a wide variety of media, spawning an entire franchise. Starring Will Smith and Tommy Lee Jones, the film proved a huge box office success for Columbia Pictures and Amblin Entertainment, resulting in two sequels: Men in Black II andMen in Black 3. The popularity of the films has subsequently lead to many tie-ins and spin-offs, including a cartoon titled Men in Black: The Series, novelizations, soundtracks of each film, video games and an amusement park ride.
Despite sharing the same basic premise, the various adaptations differ greatly from the original comic series. Some of these differences include: The secret organization exclusively policing extraterrestrial activity on Earth while omitting the other paranormal elements, using memory erasure rather than killing witnesses, and the agency's main goal being to maintain order on Earth rather than to direct it. The tone of the series was lightened, exchanging the comics' dark and bleak approach for comedy.
Source(s): https://en.wikipedia.org/wiki/The_Men_in_Black_(comics) 

The Mistaken Bridge Photos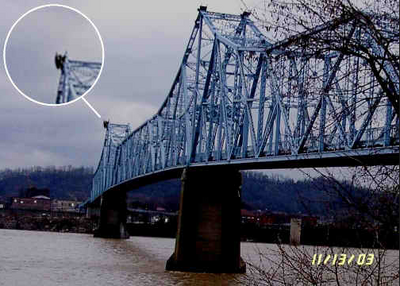 On November 13th 2003, the internet-famous "bridge photos" were taken. The images appear at first to show Mothman clinging to a bridge in one image and then flying away in the next. This photo is sometimes mistaken as related to the "The Silver Bridge Collapse" in Point Pleasant but its actually not that bridge or even the memorial bridge built afterwards. It's The Ironton-Russel Bridge crossing the Ohio river between Ironton, Ohio and Russell, Kentucky.
What the image actually shows, as pointed out in a video by TREY The Explainer, is a metal structure on the top of the bridge tilting and falling off. The corresponding structures had already fallen off and the other was slanting sideways in the first image and then falling in the second. The exact same structure can be seen on the other side at the top arches of the bridge in the photo.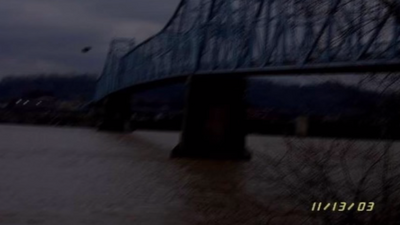 What appears to be the Mothman in these photo is actually a piece of rusted metal breaking off plummeting into the water below. The Ironton-Russel Bridge was infamously known to start to decay and collapse as it was poorly maintained. In 2003 it was demolished because it was no longer safe to cross because parts started to break off and crumble.
These photos have become widely circulated online and are often associated with the Mothman legend. They are used because of how known and eye-catching they are despite it being less than genuine. Much like the hoaxed "Loch Ness Monster" image, it is sometime used just as a representation to evoke certain imagery. Though they might look somewhat convincing at first glance, it's not what it seems.
Source(s):
https://en.wikipedia.org/wiki/Ironton-Russell_Bridge
https://www.youtube.com/watch?v=y2W7WLQTIUM