"He (The Mothman) is part of our history." - Carolin Harris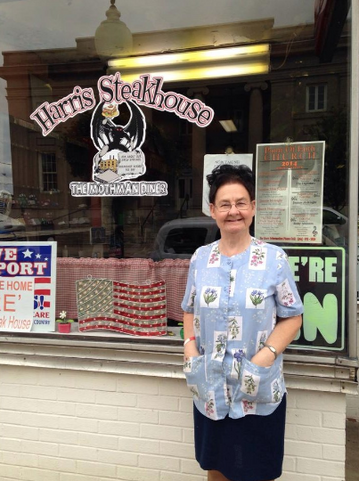 Harris Steakhouse opened on Main Street, Downtown Point Pleasant in 1969 under the ownership of Carolin Harris.

The diner served breakfast, lunch, and dinner to visitors from all over the world and colloquially became known as The Mothman Diner.
The diner set in the "The Mothman Prophecies" movie in 2002 was actually modeled after the Harris Steak House, complete with decor and atmosphere.
The Harris Steak House was located on the same street as the Mothman Museum and Mothman Statue. It received most business during the annual Mothman Festival which Carolin Harris helped start and organize for many years.
Carolin Harris passed away at the age of 74 on Monday, December 26th 2016. She ran the Harris Steakhouse for 48 years. She was a loving person and an active part of the community.
In 2017, an exhibit was added to the Mothman Museum in dedication. It featured the soda fountain counter and chairs from her restaurant which were donated by her family. A plaque was added to the town of Point Pleasant in 2018 which read the following:
"Carolin Harris [1942-2016] was the owner and proprietor of Harris STEAK HOUSE which later became known as the "MOTHMAN DINER." She was like a mother to all, always smiling when she greeted her patrons. The highlight for many was when she took time from her busy day to tell stories about the town of Point Pleasant and the legend of the Mothman. She opened Harris Steak House in 1969, two years after the collapse of
the Silver Bridge
in which she lost her young son Timmy and his father. Despite the tragic events, her kindness, hospitality, hard work and dedication never faltered. Carolin was instrumental in the development of Point Pleasant and will be forever in the hearts of the residents and many friends who were blessed to know her."
 Sources:

https://web.archive.org/web/20120506034401/http://www.mothmanfestival.com/harris.htm

http://mydailyregister.com/top-stories/11916/point-loses-main-street-icon-carolin-harris-a-co-founder-of-the-mothman-festival-dies-at-74

Community content is available under
CC-BY-SA
unless otherwise noted.