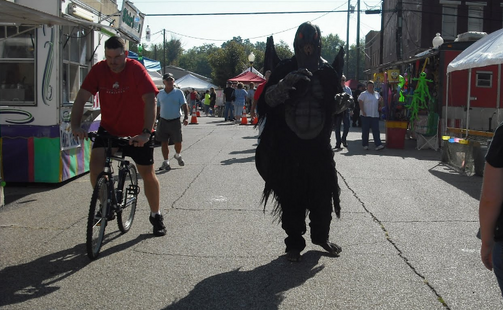 About
On Sunday September 18th and Saturday September 19th 2010, the 9th annual Mothman Festival took over over downtown Point Pleasant.
Guest Speakers:
The 2010 festival featured several guest speakers. All guest speaker presentations took place at the Historic State Theater, located on Main St. The speakers at the festival primarily had ties to the paranormal world and the Mothman legend.
Saturday, September 18th
10:00am Chad Lambert, creator of the Mothman Comic and festival regular
11:00am Joe Clark, founder of Commonwealth Paranormal
Noon Alan Caviness, UFO investigator, "Caviness Report"
1:00pm Susan Shephard, author
Sunday, September 19th
Noon Christa Carr, West Virginia State Social Studies Fair project winner
1:00pm Ericca Cordier, author of "Mothman Returns"
2:00pm Kurt McCoy, author of "White Things"
3:00pm Andy Colvin, author and Mothman photographer
In addition to guest speakers, festival-goers will have an opportunity to meet with the original Mothman eyewitnesses on Saturday from 1-3 p.m.
Aside from this, several activities including a pageant, 5K run/walk, hayride, live music and a special screening of the "Eyes of Mothman" movie on Saturday. The screening took place at 4 p.m. and will feature a question and answer session with Matt Pellowski.
Bands:
Mothman Bus Tours Information
There were also a round trip of the TNT Area, included a visit to the site of the North Power Plant, the scene of many original sightings in 1966, and a tour of abandoned igloos. During the trip, a tour guide narrated the pivotal locations and scenes of Mothman encounters. Refreshments were provided and cameras were welcome, as there are photo opportunities on the tour.
Tour prices were $19.95 for ages 12 and up and $14.95 for kids 11 and under. It included an all-weekend pass to the Mothman Museum, Certificate of completion and Mothman Search Team bumper sticker.
Sources: 

http://cryptomundo.com/cryptozoo-news/9thmmfest/

https://web.archive.org/web/20101125130018/http://mothmanmuseum.com/mothmantours/tours.html

Community content is available under
CC-BY-SA
unless otherwise noted.