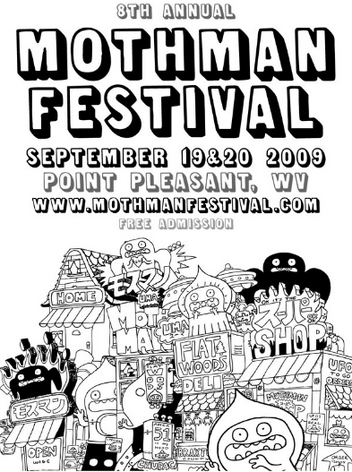 About
On Sunday September 19th and Saturday September 20th 2009, the 9th annual Mothman Festival took over over downtown Point Pleasant.
The Festival included the Mothman TNT bus tours. 90 minute guided tours departed from the Mothman Museum and featured the TNT area, the igloos and Mothman landmarks.
The Mothman Costume Contest was held on Saturday at 4PM at the Mothman Statue.
Guest Speakers:
James A. Willis Spoke on the topic of "The Spooky Side of Abraham Lincoln"
Rosemary Ellen Guiley spoke on the topic of "Vampires"
Bands:
Returning to the Mothman Festival for their eighth performance since the first festival was the band "MOTHMAN". Also on hand for live entertainment was the bands "12 GAUGE" and "40 POUND SNAPPER".
Visitors
West Virginia "WSAZ" on air personalities such as Meteorologist Josh Fitzpatrick and News anchors Susan Nicholas and Doug Korstanje were at the festival to meet and greet everyone from 1pm till 3pm on Saturday the 19th. Both Susan and Doug both had cameo roles in the Mothman Prophecies movie as news anchors appearing on the television in the diner scene of the movie.
The Grumpy Peddlers displayed a collection of antique bikes and collectibles and DJ Scott's Karaoke showcased anyone who wanted to take the mic.
Kentucky's "TURTLEMAN" was there Saturday and Sunday with a giant snapping turtle for handling demonstrations. Central Kentucky's Ernie Brown catches and handles 40lb snapping turtles and appeared at the festival to entertain.
The previous Miss Mothman queen contestants were also there for a meet and greet with festival attendees. Also scheduled to appear was the Mason County Fair queen.
Sources:

https://web.archive.org/web/20090102065754/http://www.mothmanfestival.com/

https://web.archive.org/web/20100302201821/http://www.mothmanfestival.com/entertainment/
entertainment.html

http://paranewsinsider.blogspot.com/2009/09/2009-mothman-festival.html

Community content is available under
CC-BY-SA
unless otherwise noted.