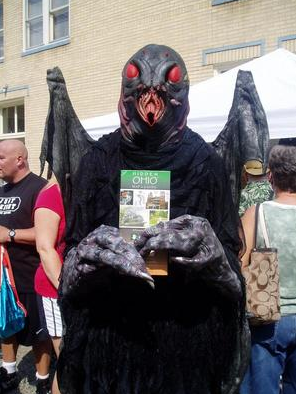 About
On Saturday, September 20th and Sunday September 21st of 2008, the 7th Annual Mothman Festival took place in downtown Point Pleasant. A Hayride event also occurred on Friday night. A Mothman Costume Contest was held on Saturday at 4pm at the Mothman Statue.
Visitors
Ernie Brown or "Turtleman" from Kentucky was there on Saturday and Sunday with a 40lb giant snapping turtle for handling demonstrations.
DJ Scott's Karaoke showcased those who took the mic. Scott was there DJ-ing from 1pm till 4pm in front of the post office steps on Saturday and Sunday.
WSAZ's on air personalities Meteorologist Josh Fitzpatrick, Susan Nicholas and Doug Korstanje who are news anchors were at the festival for a meet and greet from 1pm till 3pm on Saturday the 20th. Both Susan and Doug both had cameo roles in the Mothman Prophecies movie as news anchors appearing on the television in the diner scene of the movie.
Guest Speakers:
Saturday, September 20th
Sunday, September 21st
12 noon Neal Parks (Author & paranormal researcher)
1pm Travis Short (Dark Wings documentary filmmaker)
2pm Jason Clyburn of Prodigy Group (Dayton, Ohio, ghost hunters)
3pm James Willis (Coauthor of Weird Ohio)
4pm Tom Moore (Parkersburg ghost hunter)
4:30 Bob Wilkinson (Gray Barker documentary filmmaker)
Bands:
The band "MOTHMAN" returned to the Festival for their seventh performance. They played on Saturday evening at 8pm on the main stage at the WV Farm museum during the hayrides. CDs and other band merchandise were on sale at the band's vendor tables.
Sources:

https://web.archive.org/web/20080912110026/http://www.mothmanfestival.com/

https://web.archive.org/web/20081120115030/http://www.mothmanfestival.com/guestspeakers/g
uestspeakers.html

https://web.archive.org/web/20080911233858/http://www.mothmanfestival.com/entertainment/
entertainment.html

http://cryptomundo.com/cryptozoo-news/wamsley-profile/

Community content is available under
CC-BY-SA
unless otherwise noted.