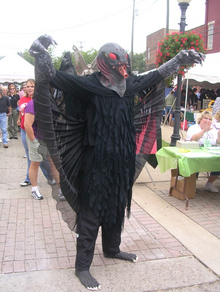 On Saturday September 16th and Sunday September 17th 2006, the 5th annual Mothman Festival was held in downtown Point Pleasant. The year marked the 40th anniversary of Mothman's debut appearance near the TNT area back in November of 1966. The success and magnitude of the Mothman Festival continued to grow. The festival began at 10 a.m. Saturday in Gunn Park, where the Mothman statue stands, and concluded on Sunday.
Among the new events were a Mothman weight and power lifting contest. In addition, events return from past festivals, including haunted hay rides and tram tours.
The Mothman Band was also there for its fifth appearance. The band played from noon to 4 p.m. Sunday near the Mothman statue.
Guest Speakers:
Chad Lambert
, writer and paranormal investigator Robin Bellamy and former Herald Dispatch field reporter Ralph Turner, who worked for the paper in 1966. Speeches were held at the Point Pleasant Riverfront Park Amphitheater.
Loren Coleman, who has been involved in fieldwork research for 46 years, spoke at the Mothman Festival in 2006.
Coleman served as a consultant on The Mothman Prophecies movie and documentary, wrote his Mothman and Other Curious Encounters book in conjunction with the studio, and continues to appear frequently on television and radio programs about Mothman.
On Saturday, Loren Coleman spoke on the topic of Cryptozoology behind the Mothman sightings in his talk, "The Real Mothman". On Sunday, he served on a panel or lecture on the psychological aftermath in the wake of the Mothman phenomena and Silver Bridge collapse.
Visitors
Witnesses Linda Scarberry, Faye Dewitt-Leport and Merle partridge were all at The Mothman Festival in 2006. There were also classic cars there such as a Black '57 Chevy which was the type of car the Scarberry and Mallettes were in during their Mothman sighting.
Sources:

https://web.archive.org/web/20060717102046/http://www.mothmanlives.com/indexMAIN.html

http://cryptomundo.com/cryptozoo-news/mmfest06/

https://web.archive.org/web/20080219204239/http://www.mothmanmuseum.com/MothmanLives/
mothmanfestival/mothmanfestival.html

Community content is available under
CC-BY-SA
unless otherwise noted.