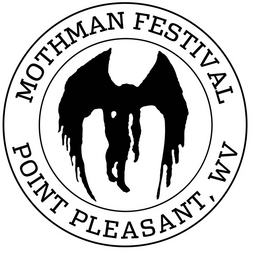 On Friday September 16th and Saturday September 17th 2005, the 4th annual Mothman Festival took place in downtown Point Pleasant.
The TNT tours and hayrides attracted upwards of 600 Mothman fans on Saturday evening September 17th, following festival activities in downtown Point Pleasant. Ticket holders were entertained by the Mothman band who hail from neighboring Portsmouth and Ironton, Ohio.
Guest speakers:
Susan Sheppard
Robin Pyatt Bellamy
Dave Peyton
Visitors
The History Channel film crew attended The Mothman festival in addition to shooting on location in the TNT area with original Mothman eyewitness Linda Scarberry. The crew casually strolled amidst the large festival crowd in hopes of catching a quick glimpse of Mothman himself.
New York film maker Matt Pellowski was in town during the Mothman Festival preparing for his Mothman documentary which was later named "Eyes of The Mothman". It was set to begin production in the following few months. Also attending were the guys from Ghostly Talk radio as well as Nathan Pazsint and crew of the Stockhom Agency who made Mothman Merch.
Source:

https://web.archive.org/web/20051103045450/http://www.mothmanlives.com/indexMAIN.html

Community content is available under
CC-BY-SA
unless otherwise noted.