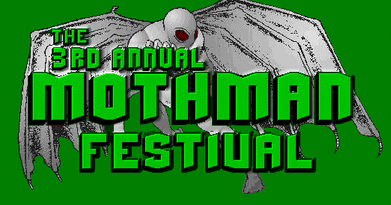 On Saturday September 18th and Sunday September 19th of 2004, the 3rd annual Mothman Festival was held in downtown Point Pleasant. This was the first time The Mothman Festival was a 2 day event.
Mothman fans and investigators from all over the world braved the elements and came to join in on the events and special activities. The festival took place during stormy weather, Hurricane IVAN was going on at the time.
Mothman Prophecies author John Keel made plans for a return visit but wasn't unable to attend. Keel called Festival organizer Jeff Wamsley the week prior out of his concern for this year's festival and the weather situation. He was very happy to hear that the festival went ahead as planned.
The event featured everything from Mothman displays, guest speakers, Mothman merchandise. Mothman book authors, museum displays, movie props, food, live bands and TNT area guided tours.
The Mothman band performed on both Saturday and Sunday bringing back their special brand of acoustic-pop rock that impressed everyone at the last two previous Mothman festivals. "Kent Boogie" hit the stage on Saturday afternoon.
Sources:

https://web.archive.org/web/20040824013811/http://www.mothmanlives.com/indexMAIN.html

https://web.archive.org/web/20041012050534/http://www.mothmanlives.com/indexMAIN.html

https://en.wikipedia.org/wiki/Hurricane_Ivan

Community content is available under
CC-BY-SA
unless otherwise noted.