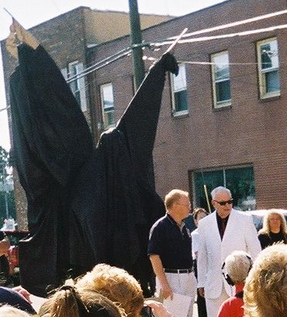 On Saturday September 13th 2003, The 2nd annual Mothman Festival was held in Point Pleasant. Mothman investigators from all corners of the country and even Mothman Prophecies author John Keel himself attended the event as the special guest of honor.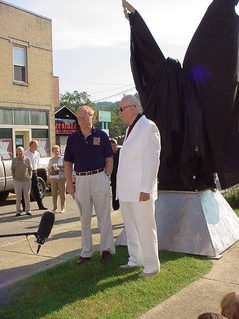 The host of the day, John Keel was flown in for the official unveiling of the gigantic 12-foot-tall stainless steel Mothman sculpture on Gunn Street. The statue was done by Bob Roach of New Haven, West Virginia.
Most of the time John Keel wore black suits, but because of the town's past, he returned to Point Pleasant in a full white suit with a black undershirt. The exact opposite of what The Men In Black were said to wear. On that day, John Keel was their mirror image; the man in white. 
Keel stayed at the Lowe Hotel, just as he did when he visited Point Pleasant in the 60's. This was the last time that John Keel would visit Point Pleasant.
The Mothman Museum later acquired Keel's white suit from the historic Mothman unveiling ceremony and put it on display in the Museum along with several other iconic Keel artifacts.
According to Loren Coleman "Keel's appearances would be few and far between. But his sense of humor never left him, including wearing that all white suit to the Mothman Festival in Point Pleasant, West Virginia, for the unveiling of the new Mothman replica" 
Jeff Wamsley, who organized the Festival and the Mothman Museum, said "I have to laugh when I think back to the 2003 festival when (Keel) came to unveil the Mothman statue in Gunn Park. The time came for him to do the official unveiling and he was nowhere to be found. They finally located him eating breakfast at Harris Steakhouse"  
He said "When I told him we were ready for him to kick things off, he looks me straight in the eye and says 'they'll just have to wait until I finish my breakfast.' He finally made his way out to the statue, and the rest is history." 
There were plenty for festival visitors to see such as exhibits, displays and merchandise. Hayrides and tours of the TNT area were given during the early evening, after a day of local speakers and a visit from Bill Geist of "CBS Sunday Morning." The Geist report was originally broadcast on September 28, 2003, and then repeated on August 29, 2004.

The festival ended with Mothman guided tours through The TNT area where the legend all began 37 years before. Rides lasted well into the midnight hour because of all of the visitors.
Sources:

http://cryptomundo.com/cryptozoo-news/white-suit/

http://cryptomundo.com/cryptozoo-news/wamsley-profile/

https://web.archive.org/web/20040203155206/http://www.mothmanlives.com/indexMAIN.html

Community content is available under
CC-BY-SA
unless otherwise noted.