<-- Previous Festival (2018)                (2019)                Next Festival (2021) -->

About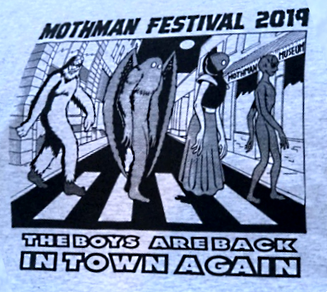 On Saturday September 21st and Sunday September 22nd 2019, The 18th Annual Mothman Festival was held in Point Pleasant, West Virginia.
Kick-off Event:
On September 20th 2019, a movie screening event was held by Small Town Monsters to officially begin the festival.
Guest Speakers:
Saturday, September 21st
11am           Brent Raynes (Researcher & Author of John Keel Biography)
12pm           Dave Spinks (Investigator & Author of "WV Bigfoot" and "Real WV Hauntings")
1pm             Brian Seech (Author & Researcher, founder of CUE & CCS)
2pm             Tribute to Rosemary Guiley (Various speakers)
3pm             David Bakara (Expedition Bigfoot founder)
4pm             Andrew Smith (Flatwoods Monster Museum curator)
5pm             Jeff Thomas (Georgia Bigfoot Investigator)
6pm             Greg & Dana Newkirk (Traveling Museum of the Paranormal)
7pm             Dan Bell (Free screening of Creeps & Monsters-The Fouke Monster)
Sunday, September 22nd
12pm          Eleanor Haskin (Folklorist-PHD Indiana University)
1pm            Steve Ward & Joey Madia (Authors & Paranormal Investigators)
2pm            Zach Bales (Area 51 Investigator)
Bands:
LIVE bands and entertainment on the riverfront main stage!
Saturday, September 21st
12pm             Mothman Festival Costume Contest
2pm               Riverside Cloggers
3pm               Peddlers Glory
5pm               Jesse Crawford Band
7pm               TBA
Sunday, September 22nd
12pm             Society's Ugly Son (Fish Fisher)
2pm               Ultrasound   
 Sources:

https://web.archive.org/web/20190821222049/https://www.mothmanfestival.com/
guest-speakers.html

https://web.archive.org/web/20190821222122/https://www.mothmanfestival.com/
entertainment.html

https://web.archive.org/web/20190821222215/https://www.mothmanfestival.com/

Mothman Festival 2020 Cancelled (Set To Return In 2021)
An announcement made by The Mothman Festival Facebook page and official website:
"Due to many unknown factors and the guidelines for fairs and festivals now set forth by the state of West Virginia because of COVID 19, we are postponing Mothman Festival 2020.
We want to give you the chance to change your plans and be able to do something else with your money and time. Point Pleasant WV still welcomes you at anytime.
This is the last thing we wanted to do. The restrictions would affect the guest speakers, bus tours, hayride, vendor space, and traffic/pedestrian flow etc in a negative way. The state guidelines would be tough for the crowds of our size. Instead of the Mothman festival being what it is and what we love, we feel the event would be subpar and lackluster to what has been built over the last 18 years.
That being said, we have started to plan for Mothman Festival 2021 on Sept 18th and 19th, 2021. We will celebrate the 20TH YEAR in 2021 and it will be a big one. Hope to see you there!"
Sources:

https://www.facebook.com/mothmanfestival/posts/10157413955816485

https://www.wowktv.com/news/local/mothman-festival-disappoints-fans-with-2020-postponement/

Community content is available under
CC-BY-SA
unless otherwise noted.