<-- Previous Festival (2017)                (2018)                Next Festival (2019) -->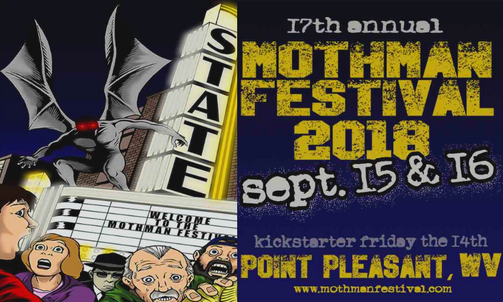 About
On Saturday September 15th and Sunday September 16th 2018, The 17th Annual Mothman Festival was held on Main Street in Point Pleasant WV to celebrate of the Mothman legend.
The festival occurred around the time that Hurricane Florence hit the east coast in South Carolina but the event wasn't effected by rainfall or weather.
The video game company Bethesda had merchandise at the festival to promote their upcoming game Fallout 76 which is set in West Virginia and features folklore creatures such as Mothman. A "Vault boy" mascot walked around the festival and many attendance were in Fallout cosplay.
Kick-off Event:
On September 14th 2018, Small Town Monsters held an Appalachian Monsters Night at the State Theater. They played three of their documentary films, specifically the ones taking place in Appalachia. This includes The Mothman of Point Pleasant, Invasion on Chestnut Ridge and The Flatwoods Monster: A Legacy of Fear.
At the kick-off, Small Town Monsters announced new films planned for the future such as Terror In The Skies, MOMO: The Missouri Monster and The Mothman Legacy!
Guest Speakers:
Saturday, September 15th 2018
11AM      Joey & Tonya Madia             "Ghostesses, Portals, and MIBs: Our Haunted Life So Far"
12PM      Robert Robinson                  "The Florida Skunk Ape"
1PM        Steve Ward                          "John Keel: Ultraterrestrails and the Mothman"
2PM        Nick Redfern                    "Men in Black: New Revelations"
[ Cancelled ]: 3PM        Loren Coleman    "Is Mothman Bad Luck?"
3PM Chad Lewis and Kevin Lee Nelson "The Van Meter Visitor"
4PM        Lyle Blackburn & Ken Gerhard  "Investigating Cryptid Reports"
5PM        Colin Schneider             "The Paranormal and Roads"
6PM        Fred Saluga                      "North America 1966-67: UFOS, Mothman and Other High Strangeness"
7PM        American Monster Tour "Oklahoma Demon Flyer" Screening. A sneak peek at the first installment of American Monster Tour, an independent documentary series which features investigators Lyle Blackburn and Ken Gerhard as they explore amazing legends and startling encounters with mysterious creatures across the American landscape. 45 minutes followed by a Q&A.
Sunday, September 16th 2018
12PM      Doug Waller & Southeastern Society For Bigfoot   "Sightings, Research & News"
1PM        Craig Hesson (Local Historian)    "The Battle of Point Pleasant"
2PM        Kim Poeppey                     "Dogman, Bigfoot and Photographic Evidence of Portals"
3PM        Allison Jornlin              "Chicago Mothman: Separating Fact from Fiction"              
Bands:
LIVE and local entertainment!
SATURDAY, SEPTEMBER 15TH
11:00       DANGEROUS COOKIES
12:30       STEPHANIE & MARK IV
2:00         RIVERSIDE CLOGGERS (DANCE GROUP)
3:30         FLATROCK REVIVAL
5:00        TWO RIVER JUNCTION
6:30        5:42
8:00        MAGGIE 
SUNDAY, SEPTEMBER 16TH
12:00     BAND OF BROTHERS
1:30       DRAGON'S EYE
3:00       CREEK DON'T RISE
 Sources:

Independent research/Personal experience of the event from MH
[Festival] https://web.archive.org/web/20180806092512/https://www.mothmanfestival.com/
[Speakers] https://web.archive.org/web/20180806092416/https://www.mothmanfestival.com/guest-speakers.html
[Speakers Update] https://www.facebook.com/mothmanfestival/posts/10155755586131485
[Bands] https://web.archive.org/web/20180806092457/https://www.mothmanfestival.com/
entertainment.htm
[STM annoucements] [https://www.facebook.com/smltownmonsters/photos/a.405006782985286/+1162617750557515/ https://www.facebook.com/smltownmonsters/photos/a.405006782985286/
1162617750557515/]
[Fallout] https://twitter.com/Fallout/status/1041405456412037121
[Weather] https://en.wikipedia.org/wiki/Hurricane_Florence_(2018)

Community content is available under
CC-BY-SA
unless otherwise noted.