2016 was a big year for the Mothman and the festival. It marked the 15th anniversary of the event and celebrated the Mothman's 50th birthday.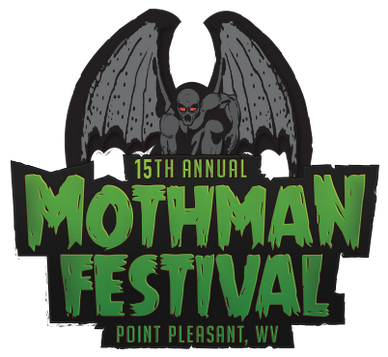 About
On Saturday September 17th and Sunday September 18th 2016, they celebrated 50 years of The Mothman and the festival's 15th anniversary. Visitors revisited the paranormal phenomenon that hit the town of Point Pleasant 50 years ago.
Every year on the third weekend in September, the streets of Point Pleasant are taken over with Mothman fans from all over the world who celebrate this annual gathering of all things Mothman.
There is only one event like it in the world that celebrates the legend of the Mothman, and it's located in the heart of Point Pleasant West Virginia, where the infamous creature is said to have once lurked. The Mothman Festival is composed of people who visit from all over the world in a town where history meets mystery.
Events:
The festival admission was free and they had so much to see and experience. There was Festival Food, Merchandise Vendors, Mothman and Men In Black Cosplay, The World's Only Mothman Museum, The World Famous Mothman Statue, Downtown Tram Tours, a Zip Line, Face painting and Kids Activities.
Mothman Pagent
The 9th Annual Mothman Festival Pageants took place on Saturday, Aug. 27.  The Jr. Royalty pageant is at 1 p.m. (Tiny Miss, Little Miss, Little Mister, Young Miss, and Junior Miss), and the Queen's Pageant took place at 7 p.m. (Teen, Miss, Ms. & Mrs.). Admission was $5. Those interested in competing pre-registered. Entry fee was $40 for children and $60 for Teens and up. 
Mothman 5K Run and walk
There was a Mothman 5k. People who participated checked in at Mothman Museum at 400 Main Street. They walked a few blocks north to 8th Street, where the starting line was. From the start line, they ran south on Main Street, went right into Tue-Endie-Wei State Park and ran the perimeter. Then they entered through the flood wall and ran about 1 mile between the flood wall and the Ohio River. Turn around was at the end of the flood wall. They returned the way they came and finished back on Main Street, at the museum. 
Mothman Hayride
The popular Mothman Hayrides allowed visitors to get up close and personal in the TNT Area. Tickets went on sale the morning of the festival at the Info tent.  There were no pre-sale tickets sold.  Hayrides took place just up the road about 7 miles at the Mason County Farm Museum starting around 7 pm and usually ending around 11.
Mothman TNT Guided Shuttle Tours
A private group tour led visitors into the heart of the infamous TNT Area where the sightings of Mothman are said to have once taken place. They visited the elusive ammunition bunkers or "igloos" as the locals call them.  These tours were only available during the festival.
They embraced the history and mystery that surrounds the elusive and once top secret TNT Area on the fully narrated and guided venture. They re-traced the footsteps of the original Mothman eyewitnesses through the detailed stories that the group tour guide shared during the 60 to 75 minute bus tour. They departed from the festival and travel through Point Pleasant and onward into the TNT Area and even made a stop at the WWII ammunition bunkers to investigate and take pictures. There were plenty of sites to see as they traveled there and back to the starting point. There was plenty of interesting stories, creepy facts, and even some personal experiences to discuss throughout the journey.
Vistors:
"Mountain Monsters" Fan Meet and Greet
Trapper John and the AIMS Team were at the 2016 Mothman Festival to meet with their fans. Fans stopped by to say hello and snag pictures with the AIMS team.
Visit from the Ghost Busters
The Mothman festival included cosplayers dressed as ghostbusters complete with cars and the giant marshmallow man. The event has been described as a festival and street fair, with a little Comic Con mixed in. So, who better to join in on the action than the Ghost Busters?! These cos-players do this in their spare time and their profits go to local children's charities. Many festival goers payed them a visit and showed them their support.
"Supernatural" Cosplay Presented by "Last Action Josh" and "Bam Pow"
It was planned for there to be cosplayers of Dean, Sam, Abaddon and Castiel for fans of the hit TV show "Supernatural". It was even supposed to include Dean's 1967 Chevy Impala that looks just like the car from the show but unfortunately this didn't happen.
Speakers:
Every year, The Mothman Festival hosts a panel of both well known and up and coming paranormal professionals, artists, and authors. The guest speakers presented an array of topics and discussions:
Saturday, September 17th
10:00 AM - ROBERT ROBINSON (Investigator and author of "Legend Tripping") SPEAKING TOPIC: Unknown
11:00 AM - CHAD LAMBERT (Two time Harvey Award nominated comic writer and editor of "Return to Point Pleasant") SPEAKING TOPIC: "The Art of Comic Book Writing" Chad talks all things Mothman and why it became the subject of his early comic book work.
Noon - SUSAN SHEPPARD (Creator of "Haunted Parkersburg Ghost Tours", executive producer, and author) SPEAKING TOPIC: "The Partridge/Derenberger Connection" The MIB and Mothman encounters that these key witnesses experienced after their first initial famous reports/sightings.
1:00 PM - ROSEMARY ELLEN GUILEY (Author & leading expert in paranormal investigations) SPEAKING TOPIC: "WHO IS MOTHMAN?". What are the explanations on the nature of the entity, where it came from, and why it roamed the Ohio River Valley.
2:00 PM - JOEDY COOK (Bigfoot researcher, author, and founder of "Cryptid Seekers" and "Dogman Phenomenon") SPEAKING TOPIC: "Dogman Phenomenon" First-person accounts and newspaper articles on strange beings. Including:  The Beast of land between the lakes, Beast of Bray rd, Michigan Dogman, Shenango Valley Werewolf.
3:00 PM - STAN GORDON (UFO researcher & author of award winning "Kecksburg The Untold Story") SPEAKING TOPIC: "Astonishing Pennsylvania Encounters: Past and Present" This lead UFO investigator of the 1965 Kecksburg crash site will delve into the strange occurrences (Both past and present) within his home state of Pennsylvania.
4:00 PM - FRED SALUGA (Investigator & Director of WV & Penn. Mutual UFO Network) SPEAKING TOPIC: "West Virginia - Wild, Wonderful and Mysterious"
5:00 PM - BILL BROCK (Cryptozoologist, author, and host of TV show "Monsters Underground") SPEAKING TOPIC:  "Ancients, Aliens and Mothman...Is Mothman Alien?"
6:00 PM - KEN GERHARD (Author & Co-Star of History Channel's "Missing in Alaska") SPEAKING TOPIC: "Flying Cryptids". Reports of Thunderbirds, living pterodactyls, giant bats, some recent reports and how these might tie to the Mothman phenomenon.
7:00 PM - NICK REDFERN (Well known author, lecturer, journalist & paranormal researcher) SPEAKING TOPIC:  "The Mystery of the Women in Black". Much has been written on the sinister MIB, but little has been penned on the bone-chilling "WIB". Nick Redfern will be revealing the strange story of the Women in Black, including encounters in Point Pleasant.
8:00 PM - LOREN COLEMAN (World renown cryptozoologist, author, and researcher) SPEAKING TOPIC:  "The Winged Weirdies" Dover Demon, Phantom Panthers, Big Foot and other oddities of the International Cryptozoology Museum.
Sunday, September 18th
Noon - JOHN AND TIM FRICK (Brothers, avid paranormal investigators, and UFO eyewitnesses) SPEAKING TOPIC: "TNT Time Slip" The TNT Area explorations of the Frick Brothers and their strange experience with what might be a TNT time slip.
1:00 PM - SHERRI BRAKE ("Haunted Heartland Tour" owner, author/columnist, and researcher) SPEAKING TOPIC:  "Haunted Heartland" Dicussion and photos of haunted, and mysterious locations including reformatories, haunted prisons and lunatic aslums within Ohio and WV.
2:00 PM - CAMERON JONES (Paranormal researcher & investigator) SPEAKING TOPIC: "Point Pleasant: A Supernatural History. UFOs, Ghosts, and Mothman".
3:00 PM - ROUND TABLE DISCUSSION. Variable hot topics in paranormal research & news will be discussed and a Q&A session will take place between our guest speakers with festival audience members.
4:00 PM - GEORGE DUDDING (Point Pleasant native, physics teacher and author of "The Silver Bridge Tragedy") SPEAKING TOPIC:  TBA
Bands:
Bands of Saturday:
11am - "Creek Don't Rise"
1pm - "5:42"
3pm - "Pop Friction"
5pm - "Sodbusters"
7pm - "StillWater"
8pm - "Mothman Band"
Bands on Sunday:
11am - "Duane Albert and The Area 51 Band
1pm - "Ultrasound"
3pm - "Warcreek Mafia"
Sources:

https://web.archive.org/web/20160829025642/http://www.mothmanfestival.com/ 

https://web.archive.org/web/20160816081536/http://www.mothmanfestival.com:80/guest-speaker

https://web.archive.org/web/20160905110834/http://www.mothmanfestival.com:80/attractions

Community content is available under
CC-BY-SA
unless otherwise noted.